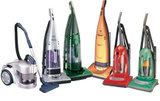 Let me start with a little background. I always leave the vacuum out, for whatever crazy reason, I hate putting it away. It aggravates Rob to no end. I get it out, I leave it out...behind the chair or in the corner. It belongs in our laundry room, tucked behind the door. I hate getting it out, I hate putting it away. So usually, if I have to get it out in the first place, I certainly don't want to put it away again!
Well, last night after
Friday Night Live
at Momdot I decided it was time for me to go to bed. Rob was watching a movie, so I let him know, and he followed. We turned out all of the lights except the bathroom light and locked the doors. We brushed our teeth, I finished first. I started to walk out of the bathroom and he shut off the lights before I made it all the way out. Which put me in pitch black. I'm sure you all know what is coming next! The next step I took was one of sheer pain. I stubbed every toe on my left foot. On what you ask? You got it! I was hopping around on one foot whimpering, Rob was laughing as hard as I'd ever seen him laugh. I still didn't know what I'd stubbed my toes on, but figured it out when I realized how hard Rob was laughing. By the time I hopped into bed I was laughing too, mostly because I like seeing him laugh so hard! He was still laughing this morning. My toes still hurt this morning.
Needless to say, I will be putting the vacuum away from now on!